>Saturdays in Newark, NJ<
>DisturbancE Unit Productions Presents<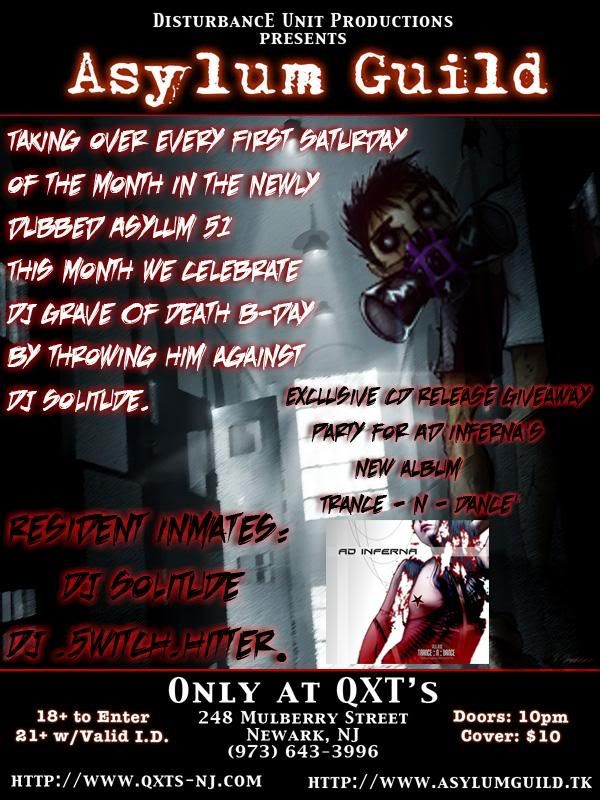 Asylum Guild

Every First Saturday of the month in NJ!

..Resident Djs..
Dj SoLiTuDe
&
Dj .5witcH.HitteR.

New Jersey is about to get an extreme overdose in harsh beats and reasons to dance!
Asylum Guild has always been the place to be, and this next event is no different!

We've been known for causing some interesting birthday celebrations, but this one should be the most entertaining(for the dance floor).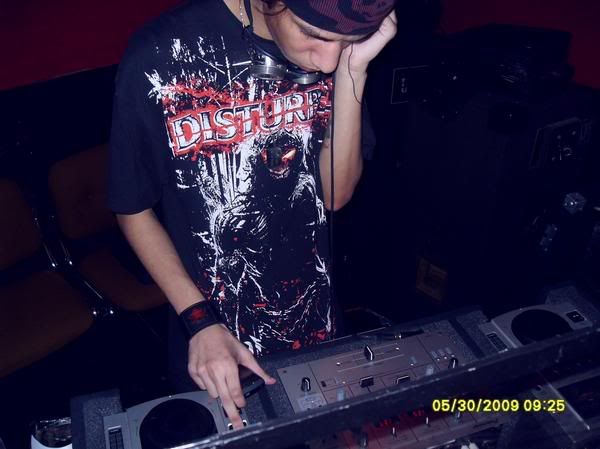 Dj Grave Of Death(celebrating his birthday in traditional AG Style)
Challenges the Resident Inmate Dj SoLiTuDe to an all-out brawl that may very well cripple the dance floor!

And if that weren't enough for you,
we got the exclusive CD Release Giveaway Party for Ad Inferna's new album 'Trance - n - Dance'




So come out, get insane, have a drink or two, and party like the maniacs do!

Click Here For Reduced Admission

To follow up and find out what's going on in the Home for the Auditory Insanity, you can always check out our website at
www.asylumguild.tk
Or add our MySpace
myspace.com/asylum_guild
Or follow(literally) us on Twitter
Twitter.com/asylumguild

Plenty of ways for you to stay in the know. Plenty of ways to get in touch with us. And only one way to truly party up!

18+ with Valid ID
$10 Cover
Doors Open at 10pm
QXT's
248 Mulberry St.
Newark, NJ

http://www.asylumguild.tk
http://www.qxts-nj.com


Asylum Guild(Noun):
"A group of like-minded or like-afflicted persons gathered in a specific location."

WARNING!!!!!
Asylum Guild Is Not For The Faint Of Heart and Mind!!
We are the most balls to-the-wall, 135 BPM and above, unrelenting and insane night in now in New Jersey!!! Just a short distance from the PATH train, so NYC can easily make it out. Do not enter unless you plan on dancing to some angry music!!! You have been warned.