Saturday August 1st
DisturbancE Unit Productions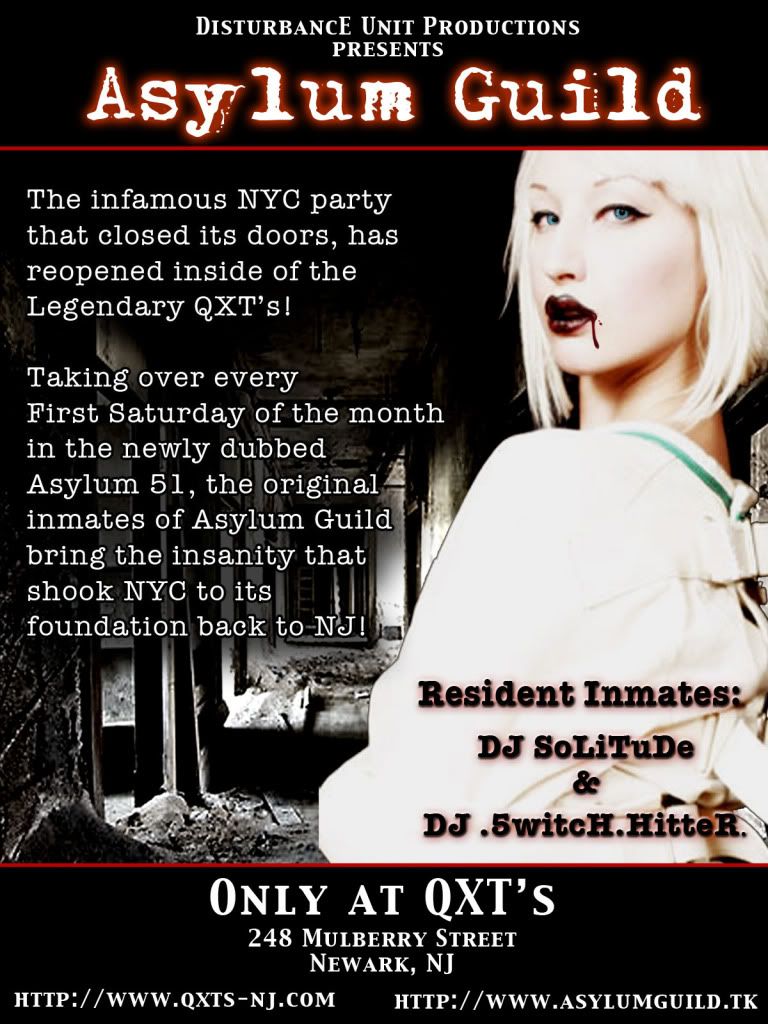 Asylum Guild

Every First Saturday of the month in NJ.

Resident Djs
Dj SoLiTuDe
Dj .5witcH.HitteR.

Although the doors of Asylum Guild have shut for the final time in NYC, the inmates have chosen to bring their insanity to the confines the legendary QxT's. Starting August 1st and every first Saturday of the month thereafter, the original inmates SoLiTuDe & .5witcH.HitteR. will be medicating the patrons of Area 51 (along with trips to the main floor to join with DJ Ron Medina) with their own personal dosage of hard prescription beats, Asylum Guild style! With genres ranging from industrial, EBM, hard-house, psy-trance, happy hardcore, to the sickest remixes of popular tracks, the newly dubbed Asylum 51 room will leave not a single inmate begging for escape! And to top it off, every month former residents will top in to bounce patrons off the wall with their own personal doses! So leave your sanity at the door and get checked in every first Saturday night at QxT's!

As an added bonus, the Team AG will be hosting the official New Jersey release CD party for the new album "Necrolust" for the band MORDACIOUS!

The first 10 people at the door who say they're at QxT's for Asylum Guild will receive a free copy of this incredible Terror-EBM album chalk full of hard-hitting dancefloor tracks. Additional giveaways will take place throughout the night!!!



To follow up and find out what's going on in the Home for the Auditory Insanity, you can always check out our website at
www.asylumguild.tk
Or add our MySpace
myspace.com/asylum_guild
Or follow(literally) us on Twitter
Twitter.com/asylumguild

Plenty of ways for you to stay in the know. Plenty of ways to get in touch with us. And only one way to truly party up!

18+ with Valid ID
$10 Cover
Doors Open at 10pm
QXT's
248 Mulberry St.
Newark, NJ

http://www.asylumguild.tk
http://www.qxts-nj.com


Asylum Guild(Noun):
"A group of like-minded or like-afflicted persons gathered in a specific location."</b></b>